The journey to a high-quality flexible circuit board starts with using top-notch flexible PCB design software.
If you're new to flexible PCB design, we can assure you the industry is full of much more reliable software that you can use for various projects.
For instance, we have paid design software like Altium and free software like Circuit Maker.
However, different software has unique features that make them excel in some applications and fail in others.
Therefore, you should consider PCB design software features while selecting or buying one.
Today's guide has everything you need to understand design software features, types, and benefits.
Also, we highlight the top 5 flexible PCB design software worth using. Let's get going.
Table of Contents
Top 5 Flexible PCB Design Software
You can use numerous flex PCB design software for your project.
However, you will get the best results with top-notch software. Feel free to pick from the following list:
Altium Designer
Regarding system design, very few design software can compete with Altium.
The software comes with excellent features to help you simulate and create high-quality electronics.
More specifically, you can use the software to develop and document every design aspect, including CAD data and electrical schematics.
For the pricing, you can buy a lifetime (perpetual-based) product for $11870 or a subscription (term-based) product for $358 monthly.
Finally, the software is easy to use and offers a quick error-checking mechanism.
Pros
It's a user-friendly platform that offers easy user access
It gives fast results and a compact design
There is a quick error-checking mechanism
Allows file conversion from other platforms
Cons
Only the Windows version is available
It has a high purchase price
CircuitMaker
This is a widely used software that finds significant applications in small projects.
The good thing about the software is that it's freely available for commercial and non-commercial projects.
Moreover, it comes with an extensive library of components and parts.
Furthermore, CircuitMaker allows for push-and-shove routing.
Pros
The software is free, with unlimited access
Push-and-shove routing
It offers a comprehensive component library
You'll find it easy to use and learn
Cons
The component library requires an update
EAGLE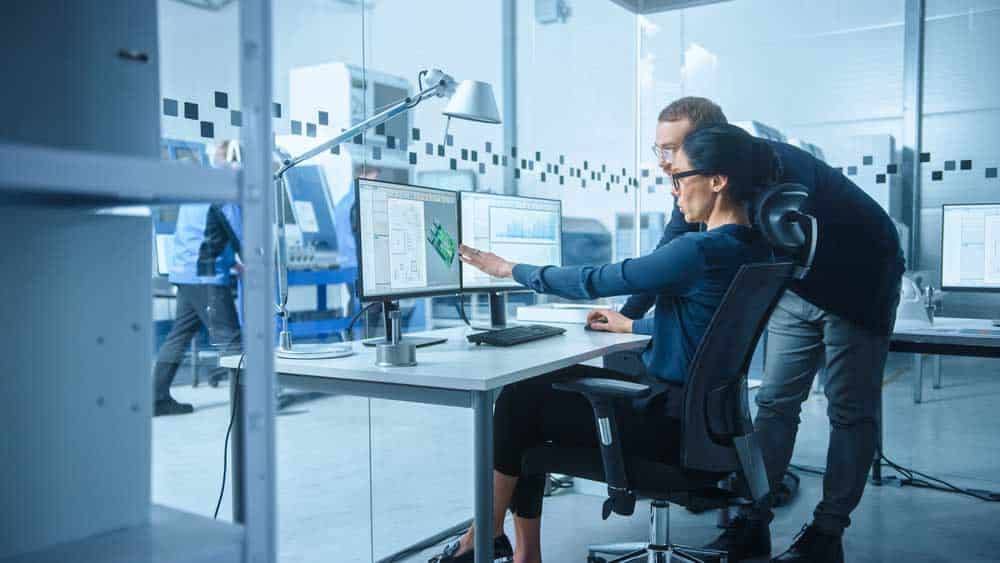 (A male and female workers designing a circuit)
EAGLE is the best software for professionals creating schematics and electrical circuits.
Funny enough, it has excellent features that make it easy for beginners to complete successful designs.
It also has a free version for smaller projects and a paid standard and premium version for complex designs.
The standard version costs $15 monthly and $100 yearly, while the premium will cost you $70 monthly and $545 annually.
Finally, the software is designed to make it easy to test circuit procedures and, where possible, check the output with SPICE simulation.
Pros
The software has manageable online libraries
Allows for real-time circuit design synchronization
It has 3D circuit board templates
Cons
You'll get limited features with the free version
Solidworks PCB
This software has a bi-directional SOLIDWORKS CAD integration, providing powerful, high-quality designs.
Additionally, it's easy to navigate and well-designed, with helpful tutorials to kick-start your design process.
Also, a lifetime subscription of $4195 is more reasonable and affordable than other solutions.
However, on top of the lifetime subscription, you'll pay $1000 yearly for technical support and upgrades.
Pros
It has a high workflow because of a full circuit board design efficiency
The interlink with SOLIDWORKS CAD enables improved user experience
Cons
High yearly maintenance costs
You'll find it challenging to use at first
EasyEDA
How could EasyEDA, with its wide range of features, miss our list?
This software is free, user-friendly, and powerful, popular among beginners.
Also, it has an intuitive and clean interface that walks you through every design step.
Furthermore, it provides an extensive component library, making identifying project parts easy.
Pros
Has the LCSC component catalog
Provides for easy project management
Over a million unique libraries
Cons
You'll be disappointed if you are looking for a high-speed design software
Flexible Design Software Features
(A scientist engineer in a modern electronic facility using design software)
Most flexible design software you will interact with comes with common features, as shown below.
Firstly, they have collaboration features that help different designers work on the same task simultaneously. Therefore, they can give feedback, add comments, and make real-time adjustments.
Secondly, there are schematic editors for assembling and editing graphical objects and electrical components.
Thirdly, they have 2D schematics and 3D visualization tools to help you view the design. Moreover, it enables you to identify errors and make necessary changes quickly.
Fourthly, we have auto-routing for connecting the various points automatically.
Finally, the software has design rule checking to identify any design violations and flaws. Therefore, adjusting anything and avoiding problems related to EMC, power, and signals becomes easy.
Flex PCB Software Design Steps
(An electronics development engineer chatting with the project manager)
There are at least three significant steps for designing circuit boards using design software.
Component placement: You start the circuit board design process by converting a schematic into a tangible board.
For the best results, you must employ your problem-solving skills.
Routing: This process involves establishing electrical connections between components on a circuit board layout.
Therefore, every flex PCB routing is unique.
Integration: Finally, you can integrate MCAD and ECAD software like EAGLE and EasyEDA.
Therefore, you can share the design with an engineer who will determine whether or not it will fit the physical layout.
Benefits of Using Flexible PCB Software?
(An engineer operating a design software)
Saves time: Designing everything from scratch will consume more time than expected.
However, with flex PCB software, you can access pre-made designs to fasten your design process.
Easy process: If you have ever designed a circuit board using design software, you understand how easy it can get.
Some software comes with online guides to help you.
You can test performance: Another advantage of design software is that after you're through with everything, you can test the circuit performance before implementation.
Therefore, it becomes easier to identify errors and make corrections.
Otherwise, you might design a PCB that won't work, thus wasting time and money.
Better visibility: Circuit board design software has features like 3D visualization that lets you view designs from all angles. Consequently, you can spot errors with ease.
Cost-effective: If you were to design PCBs manually, you would take a long time.
This will affect production, especially in the case of volume production.
FAQs
Which type of users need flex designing software?
Generally, anyone interested in designing circuit boards can use flex designing software.
This includes hobbyists, engineering students, professional engineers, and technicians.
However, creating a circuit board requires skills, and you might take time to learn.
Luckily, most design software is easy to use.
What's the cost of PCB design software?
The cost varies depending on the software you choose.
For example, some software like EAGLE and CircuitMaker have free versions.
However, there are still others with paid versions that you pay monthly, annually, or lifetime subscriptions.
However, for software with both free and paid versions, the latter has more features.
Why do you need circuit board design software?
First, you need circuit board software to assist you in improving the circuit board layout.
Therefore, you can manage rules checking, circuit board alignment, and trace routing.
Moreover, some software allows for 3D component and layer structure visualization.
Final Remarks
We have taken you through the best flexible PCB design software precisely.
If you have plans to design a flex circuit board anytime soon, count on the above software.
However, you should note that some options are free while others offer a paid version.
Also, some have both free and paid versions.
All in all, choosing any of the above five design software will serve you well.
If there is any other software you need to understand, contact us.